Go to article
By James Rummel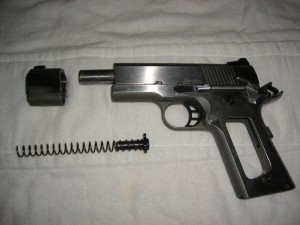 I was very careful when first starting out in the shooting sports. I hung out for hours at a local shooting range, asking the old hands endless questions concerning their hobby. What was the best caliber? The best design? The best manufacturer?
Their recommendations led me to purchase a 1911 chambered in the .45 ACP cartridge, and made by the hoary gun firm of Colt. It took less than 200 rounds for the brand new, factory fresh gun to fail in a catastrophic manner.
That was both the first and last 1911 I have ever owned, as well as the first and last gun from Colt.
I sent the gun back to Colt, and they replaced it without comment. According to my buddies at the range, such failures were not uncommon at the time when it came to Colt firearms. Unlucky me, I had just drawn the short straw in the 1911 lottery.
The guys behind the counter wouldn't give me full credit for the 1911, even though it was a new gun sent as a replacement for the crappy hunk-a-junk their flawed advice prompted me to buy in the …read more
Source:: Hell In a Handbasket