Seth McGinn's Introduces the New 1.5 Gallon Nonstick CanCooker Companion
Go to article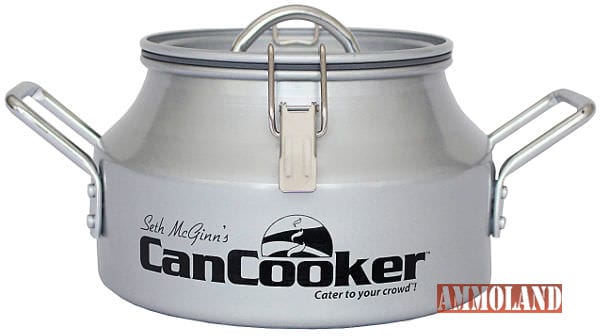 Fremont, NE -(AmmoLand.com)- Can Cooker, Inc., the company that reinvented the old-fashioned-creamery-style can as a portable convection oven that steam-cooks a complete meal in an hour, has announced the introduction of its smallest, lightest, most portable CanCooker model to date.
The new CanCooker Companion has a 1.5 gallon capacity and feeds up to six people. The new nonstick coating on the CanCooker Companion makes clean-up a snap.
Like the original CanCooker and the CanCooker Jr., the CanCooker Companion uses steam for healthier, better tasking food that is ready in less than an hour. Featuring a one-piece design and riveted, heavy-duty handles, the CanCooker Companion is built to last. Easy-to-use safety clamps hold the vented lid in place while cooking or transporting.
The new CanCooker Companion with non-stick coating has a suggested retail price of $44.99. It is currently available online at www.cancooker.com. It will be available at retailers nationwide this fall.
Recipes for the CanCooker Companion will be posted online at www.cancooker.com in the near future. Current CanCooker Jr. recipe portions can be reduced by half for use in the CanCooker Companion.
As always, be sure to use 12 ounces of liquid with any CanCooker.
About Can Cooker, …Read the Rest
Source:: AmmoLand