Go to article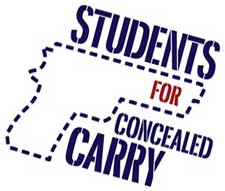 Austin, TX -(AmmoLand.com)- Over the past two months, Students for Concealed Carry has repeatedly explained how two of the proposals of UT-Austin's campus carry working group violate the intent of Texas's new campus carry law and how one of those proposals greatly increases the odds that a license holder will suffer an accidental discharge on campus.
Unfortunately, UT-Austin President Gregory Fenves chose to punt the issue to the courts rather than stand up to a cabal of fear-mongering professors.
SCC is confident that the university's gun-free-offices policy and empty-chamber policy will not stand up to legal scrutiny; therefore, our Texas chapter will now shift its focus to litigation.
Simultaneously, we will continue to work with the governor's office to explore the possibility of getting a clarification of the campus carry law added to Governor Abbott's impending call for a special legislative session to address school finance.
About Students for Concealed Carry:
Students for Concealed Carry (SCC) is a national, non-partisan, grassroots organization comprising college students, faculty, staff, and concerned citizens who …Read the Rest
Source:: AmmoLand