Go to article
By Ammoland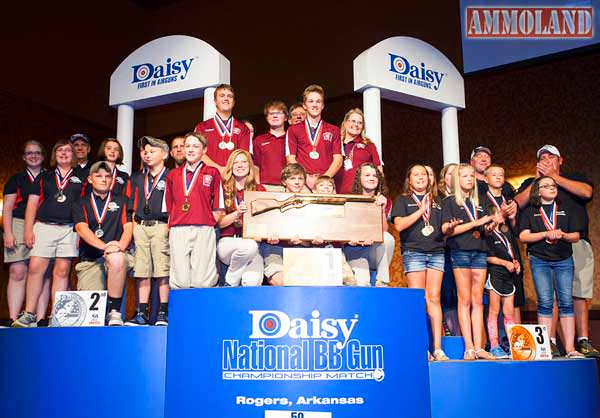 USA – -(Ammoland.com)- The 50th annual Daisy National BB Gun Championship Match attracted 68 teams—a record number—from across the nation to Rogers, Ark., for a chance to take home the coveted title over the 2105 July 4 weekend.
Members of the prestigious event's first winning team helped hand out medals to the young marksmen, ranging in ages from 8 to 15.
The Walton County 4-H Team from Monroe, Ga., claimed gold, followed by Palmyra BB Gun (Palmyra, Pa.) with silver and the D.C. Shooting Team (Armour, S.D.) won bronze.
Cumulative scores determine the winner in the 5-meter, four-position BB gun match, which was held inside the Hammons Convention Center in Rogers, but the results of a written test on firearm safety and competition rules is included in that total—an exam more than one competitor claimed is the toughest part of the event. This year there were 43 perfect scores. The top shooters in each firing line position also receive individual medals.
Daisy presents each team that attends a $1,000 award to help cover travel expenses. Despite the often-long trip, and an event that lasted …read more
Source:: AmmoLand