Go to article
By Ammoland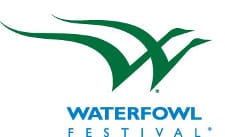 Easton MD – -(Ammoland.com)-The Waterfowl Festival is pleased to announce the selection of Julia Rogers as its 2017 Featured Artist. Rogers began exhibiting at the Festival in 1979 as a high school student and has only missed a few years of exhibiting in the Festival's painting galleries over nearly four decades.
"We are thrilled with this year's Featured Artist selection," said Waterfowl Festival President, Albert Pritchett. "As a resident of the Eastern Shore and long-tenured exhibitor, Julia has a unique understanding of the Festival and its impact on the local community as well as the intersection between art and conservation. It has been the Festival's pleasure to showcase her work as it has evolved over the course of her career."
Julia Rogers is the Festival's seventh Featured Artist and the first woman chosen for this distinction.
"I am truly honored and proud to have been selected as this year's Featured Artist, and I am especially pleased that a woman was chosen for the first time," said Rogers. "In wildlife and sporting art, there are not that many female artists, so it's important and significant for women to receive recognition."
As Featured …Read the Rest
Source:: AmmoLand