You Kind Of Have To Pick And Choose
Go to article
By James Rummel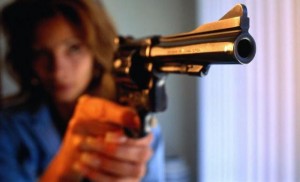 On June 11, 2016, a mass shooting occurred at Pulse, a gay nightclub in Orlando. A single individual was responsible, one who had carefully planned the attack.
Since that time, I have encountered numerous articles online from security experts that discuss what someone should do if they should find themselves in such a situation. All of them contain useful tips, but only about avoiding a mass shooting event. None of them have actually addressed what to do when confronted with an armed murderer in a public place.
The primary thing to keep in mind is that the articles in question start from the premise that the reader is unarmed, because the logical thing to do if one has the means to fight back is to do whatever they can do force the shooter to stop.
What do the experts recommend if you should find yourself under the gun? Depends, really.
Some of them suggest that you try to hide.
Some of them suggest you try to find some sort of room where you can barricade the door so the crazed gunman can't get in.
<img src="http://hellinahandbasket.net/wp-content/uploads/2016/07/high-school-kids-barricade-door-300×225.jpg" alt="high school kids barricade door" width="300" height="225" srcset="http://hellinahandbasket.net/wp-content/uploads/2016/07/high-school-kids-barricade-door-300×225.jpg 300w, http://hellinahandbasket.net/wp-content/uploads/2016/07/high-school-kids-barricade-door-768×576.jpg 768w, http://hellinahandbasket.net/wp-content/uploads/2016/07/high-school-kids-barricade-door.jpg …Read the Rest
Source:: Hell In a Handbasket