Go to article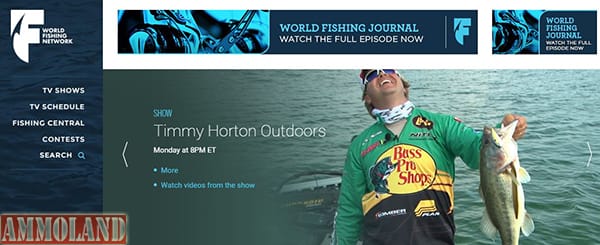 All New Episodes Airing Week of May 16–22
Denver, CO -(AmmoLand.com)- World Fishing Network offers viewers some serious rod-bending action throughout the week of May 16–22.
First, Timmy Horton Outdoors reveals more tips and knowledge from his personal experience with bass fishing. Next, viewers have seen the Major League Fishing competition from the boats, but Major League Fishing All-Angles reveals never-before seen footage of the contest from parking lots, boat ramps and just about anywhere the anglers step foot during the tournament. Then, Bass 2 Billfish is off on another Florida angling adventure.
Highlights for May 16–22:
Timmy Horton Outdoors (Mondays at

8 p.m. ET

): In this informative episode, Timmy Horton brings viewers to his very own pond in Spruce Pine, Alabama to educate the audience on the three major areas that black bass tend to habitat.