SIG Sauer M11-A1 Pistol : Review and Range Test
Go to article
By Josh Wayner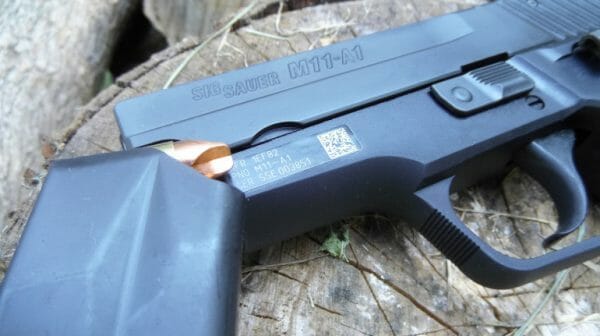 Gun Writer Josh Wayner talks about and shoots the SIG SAUER M11-A1 9mm pistol putting it through a 1,000 round test at the range.
GRAND RAPIDS, MI USA

SIG Sauer M11-A1 Pistol Front Serrated Trigger Guard
I put the M11-A1 through a rigorous amount of shooting with many, many kinds of ammunition to the tune of nearly 1,000 rounds. I had no instance of failure to feed, fire, or eject. The gun was 100% reliable from the minute I took it out of the box at the range to the present. Not only was it reliable, but it was very accurate on paper and steel. My average group at 25 yards from the bench came in at 3" with all types of ammunition. Specific loads like Black Hills Honey Badger 100gr +P dropped groups into the 1.5" range at 25 yards. The M11-A1 is an outstandingly accurate pistol.
Ammunition was tested at a range of 25 yards from a rest. Accuracy is the average of two five-shot groups fired at the same distance. Velocity was recorded over an Oehler 35P chronograph at 90 degrees Fahrenheit.
SIG SAUER 115gr V CROWN ——————– 1210fps, 3.5"
SIG SAUER 124gr V CROWN ———————1195fps, 2.8"
Black …Read the Rest

Source:: AmmoLand