Go to article
By John Farnam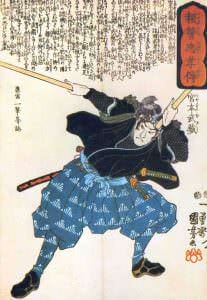 By John Farnam
Ft Collins, CO –-(

Miyamoto Musashi
We are fortunate that he wrote down valuable and hard-learned advice shortly before he died (natural causes) at the age of sixty-one.
He knew, as we do, that a "favorite weapon" is little more than an excuse to lose. Thus, with the convenient absence of the "favorite weapon," the fight is decided before it ever starts!
In his most famous duel, Musashi (age thirty at the time) was challenged by an extremely famous swordsman, known and feared throughout the region. The confrontation was pre-arranged and took place on a beach.
The challenger, waiting in full battle regalia, was astonished and disgusted when Musashi arrived, late, and barely dressed, as if he had just woken up. Musashi neglected to even bring his sword!
Enraged and insulted, the challenger move forward quickly to make short work of this impudent "Master." His overconfidence was his undoing!
Musashi, using an oar from the boat in which he had just arrived, killed his hapless opponent in less than a minute, then immediately departed in the same boat!
As it turns out, the challenger was completely outclassed, not even in the same …Read the Rest

Source:: AmmoLand