Go to article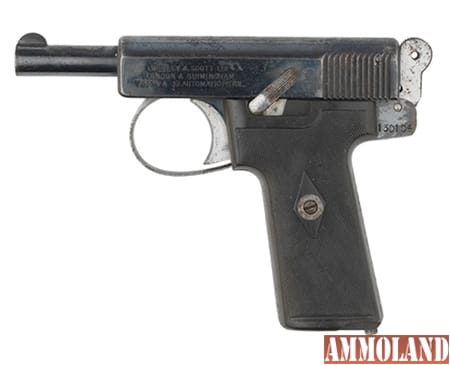 United Kingdom -(AmmoLand.com)- Sir Winston Churchill's 7.65 mm Webley & Scott pistol, part of his gun collection, is estimated to sell for £2,000 to £3,000 at Bonhams next Sporting Guns Sale on 2nd December in Knightsbridge.
This pistol was one of a number of firearms owned by Churchill while serving as Prime Minister during the war.
Patrick Hawes, Head of Sporting Guns Department at Bonhams says: "This weapon is a remarkable link to Churchill's war years."
It is believed that there were some 20 failed attempts to assassinate Churchill during the war, including a bizarre exploding chocolate bar.
One of the alleged attempts against his life is known as 'Operation Long Jump' (Unternehmen Weitsprung). This was a plan to simultaneously assassinate Joseph Stalin, Franklin Roosevelt and Churchill at the 1943 Teheran Conference during World War 2. The operation to kill the 'big three' was led by the SS. The plot was uncovered by the Soviets and the mission was never launched.
A 7.65MM (.32ACP) 'MODEL 1913′ SELF-LOADING PISTOL BY WEBLEY & SCOTT, NO. 130104 FROM THE COLLECTION OF SIR WINSTON CHURCHILL