North Carolina Policeman Put On Leave For Patriotic, Pro-America Tattoo ~ VIDEO
Go to article
By John Crump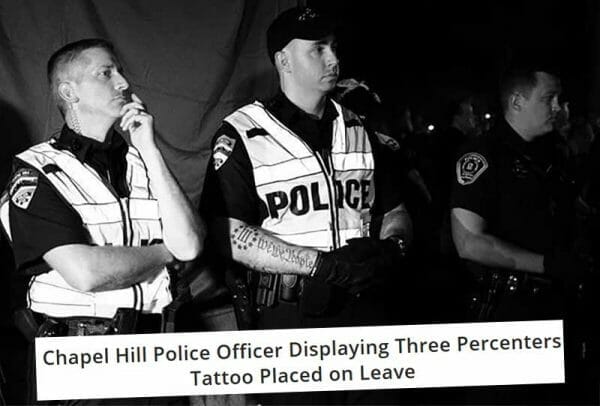 Opinion
Chapel Hill, NC –-(Ammoland.com)-The Chapel Hill Police Department has put Officer Cole P. Daniels on leave for his pro-Constitution tattoo.
Daniel Hosterman, a photographer in Durham, took a snapshot of Officer Daniels's Three Percenter tattoo at a protest at the Silent Sam Confederate monument that once stood on campus at the University of North Carolina before protestors tore it down. The tattoo consists of the Roman numeral III surrounded by 13 stars representing the 13 original colonies. On August 20, 2018, violent left-wing Antifa protesters tore down the statue because in their ignorant minds it represents racism.
According to the far left Southern Poverty Law Center (SPLC), The Three Percenters is an anti-government militia. When AmmoLand contacted the SPLC for another story about how they came up with that conclusion about the Three Percenters, the SPLC said the information came from "the Internet." They were not willing to go further into detail.
It is not the first time that SPLC has had their info wrong. The Quilliam Foundation has sued the SPLC for libel. The SPLC falsely labeled the group anti-Islamic extremist. Former jihadist, Maajid Nawaz, …Read the Rest
Source:: AmmoLand