MASF's Civilian Carry Mindset Seminar 2017
Go to article
By John Crump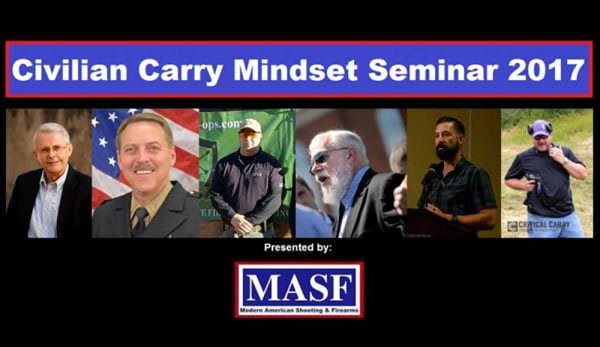 By John Crump
U.S.A. –-(Ammoland.com)- On Saturday August, 26th from 10AM to 5PM Modern American Sporting And Firearms is holding a Civilian Mindset Seminar. This seminar will be held at Lovettsville Game Protection Association which is located in Lovettsville, VA. What is interesting about this training is the wide variety of speakers and amount of topics being covered.
MASF is bringing together some of the best local trainers and subject matter experts to bring you a day filled with knowledge. Topics will range from mindset, daily concealed carry, law, justified shootings and much more!
Not only will you be expanding your horizon on self-defense but the fee is going towards a charity to help spread the word on the importance of self-defense for citizens.
MASF has 7 awesome speakers lined up for 5 hours of knowledge and a 1 hour open panel discussion at the conclusion of their presentations.
Speakers Will Be:
VA Senator Dick Black (USMC Veteran)
Loudoun County Sheriff Michael Chapman (Former DEA)
Philip Van Cleave (VCDL)
Brett Harnish (USMC Veteran …Read the Rest

Source:: AmmoLand