Go to article
By Ammoland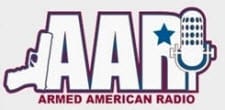 USA – -(Ammoland.com)- Armed American Radio with Mark Walters – Current events and everything that matters to our right to bear arms as the enemies of freedom battle us daily.
The latest edition of Armed American Radio has a all star guest line up that you must listen too.
Guest Lineup: This HUGE LINEUP includes Rob Pincus, edged weapon expert Alessandro Padovani, Hollywood Director of Mel Gibson's "Hacksaw Ridge", The Alan Korwin experience, Oregon broadcaster of the year, talk host and TV personality, Victoria Taft with Kevin Starrett of Oregon Firearms Federation discussing the travesty of justice against CCW holder and veteran videographer, Mike Strickland in Portland.
Hour 1:
<!–[if lt …Read the Rest
Source:: AmmoLand