Go to article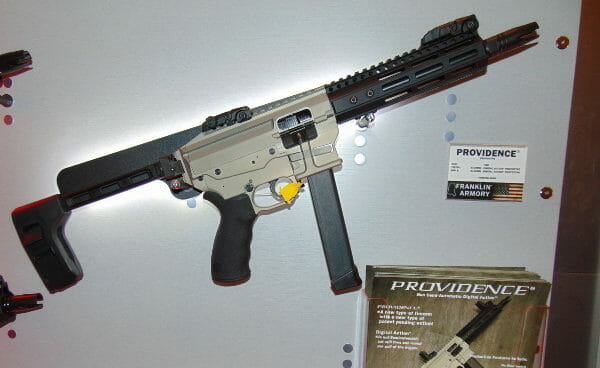 Arizona -(Ammoland.com)- Prior to SHOT Show2019, Franklin Armory made a bit of a splash by releasing information about a prototype, magazine fed pistol that was non-Semi-Automatic, but which looked very much like a Semi-Automatic. The pistol in the picture has a pistol arm brace, making it look like a carbine.
The firearm was said to utilize a digital action, and to fire one round with each pull of the trigger.
Jay Jacobson, President of Franklin Armory, was kind enough to take time and explain how the system works. He used the prototype to show the system operating the bolt and bolt carrier. Jay explained he would not show the internal parts.
First, the digital action has everything to do with a flesh and blood digit, not a numerical one. The digit that powers the system is the trigger finger.
We already have systems that do this. They are called double action revolvers.
There was another system that used finger power to feed from a magazine. It was the Dardick pistol and carbine, an interesting combination of revolver and magazine feed. A few were produced, it was not successful.
The Providence digital system is different. It uses …Read the Rest
Source:: AmmoLand