How NRA Keeps You in the Dark
Go to article
By Jeff Knox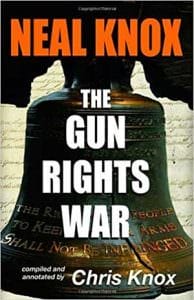 By Jeff Knox : Opinion
Buckeye, AZ –-(

Neal Knox – The Gun Rights War
About Jeff Knox:
Jeff Knox is a second-generation political activist and director of The Firearms Coalition. His father Neal Knox led many of the early gun rights battles for your right to keep and bear arms. Read Neal Knox – The Gun Rights War.
The Firearms Coalition is a loose-knit coalition of individual Second Amendment activists, clubs and civil rights organizations. Founded by Neal Knox in 1984, the organization provides support to grassroots activists in the form of education, analysis of current issues, and with a historical perspective of the gun rights movement. The Firearms Coalition has offices in Buckeye, Arizona and Manassas, VA. Visit: www.FirearmsCoalition.org.
This post How NRA Keeps You in the Dark appeared first on AmmoLand.com Shooting Sports News .
Source:: AmmoLand