Go to article
By James Rummel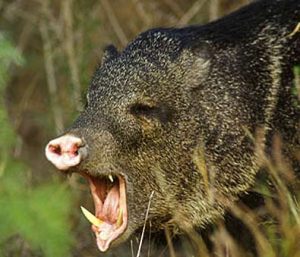 In a previous post I spoke about a woman who had been attacked by a pack of javelina in a suburban setting. (I erroneously said she had been attacked by wild pigs at first, now corrected.) I also mentioned that I accompany my dogs when I let them out into the yard to make sure that they are not attacked by wildlife.
This prompted long time reader knirirr to ask a question …
"Do you know what the effectiveness of the sort of handgun you usually carry (9mm?) is against wild pigs, if you don't mind me asking?"
Against wild pigs? Not very effective at all. Against javelina? Pretty darn effective!
The gun I usually carry for self defense is a Beretta PX4 Storm compact. It is chambered for the 9mm Parabellum cartridge.
If the make and model don't mean much to you, then don't let it bother you. Just keep in mind that it is a modern semi-auto handgun, using medium powered ammunition, and it has been optimized to be carried while concealed by making it a bit smaller than a standard handgun. The barrel …Read the Rest
Source:: Hell In a Handbasket