Go to article
By James Rummel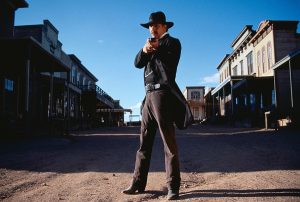 Anyone out there remember Wyatt Earp (1994)?
It was, probably, the most realistic movie portrayal of what is, probably, the most famous gun fight in all of American history.
The film did poorly at the box office, my own opinion being that it would have fared better if it had been much less true-to-life. One example which springs to mind is how the action screeches to a halt right after the famous gun fight, as the scene shifts to a courtroom. History records that the survivors on the losing side filed assault and murder charges against Wyatt Earp and those who were with him on that day. A local Justice of the Peace held hearings for 30 days to determine what had happened, and then turned the case over to a grand jury to see if there were any grounds to bring the accused to trial.
Hold the phone! Court proceedings? Justice of the peace? Month long hearings? Even a grand jury to see if there was to be a trial?
This certainly doesn't sound like the Wild West that is famed in song and story! Wasn't …Read the Rest
Source:: Hell In a Handbasket