Daily Deals: 600rnds American Eagle 5.56X45mm XM855 Ammo $189.99 $0.316ea FREE S&H
Go to article
By Ammoland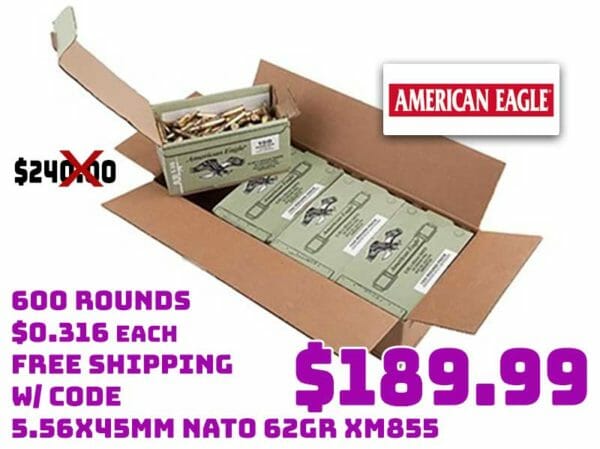 USA –
That is $0.316 a round which is a cheap price for xM855 Full Metal Jacket Boat Tail! The free shipping makes this a great buy.

TIP: Buying more quantity in one (1) shopping cart does NOT get you a cheaper price. But if you place the same 600 round order multiple times you can reapply the coupon code.
Manufactured at the Lake City Army Ammunition Plant to Federal Cartridge Company specifications for commercial ammunition. The boxer-primed, reloadable brass case is headstamped with the Federal symbol and date of manufacture. Water-resistant lacquer-sealed primer. Every cartridge is visually inspected before packing. For use only in rifles with chambers designed for 5.56mm x 45 ammunition. Some ranges prohibit steel core ammunition; check range rules before shooting this ammo.

Brand Style: American Eagle
Bullet Style: Full Metal Jacket Boat Tail (FMJBT)
Bullet Weight (Grains): 62
Cartridge: 5.56 mm NATO
Muzzle Energy: 1260
Muzzle Velocity (feet per second): 3025
Rounds: 600

These items can only go specific Ground shipping methods. These are smaller quantities of Hazardous material and have many of the same restrictions.
Video Reviews:
<iframe src="https://www.youtube.com/embed/7xPx2uS6d7E" …Read the Rest
Source:: AmmoLand