Crimson Trace Laser Sights Now Made for Honor Defense Pistols
Go to article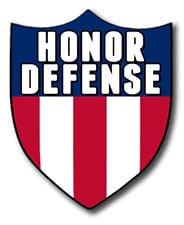 Atlanta, GA -(AmmoLand.com)- Honor Defense now offers models that are equipped with a Crimson Trace Laserguard.
In addition, consumers can also purchase the laser as an accessory directly from Crimson Trace or on the Honor Defense website. The Laserguard LG-498 is engineered specifically for the Honor Guard subcompact 9mm pistols.
"The Honor Guard 9mm has more features than other single stack 9mm pistols. We also have the same top quality lasers and holsters as other top brands. We are pleased that consumers can now add a high-quality accessory like the Crimson Trace LG-498," said Gary Ramey, President of Honor Defense. "We're very excited to launch Crimson Trace equipped models and also offer them as an accessory to our All-American made handguns."
For more than twenty years, Crimson Trace has equipped America's gun owners, law enforcement officers and military units around the globe with the largest selection of laser sights and tactical lights. For details visit them at: www.crimsontrace.com.
Launched this year, the new Honor Defense line of pistols feature:
Striker-fired design that can handle 9MM +P loads
Snag-free sights
Trigger with a wide face with a crisp 7lb …Read the Rest

Source:: AmmoLand