Go to article
By Tom McHale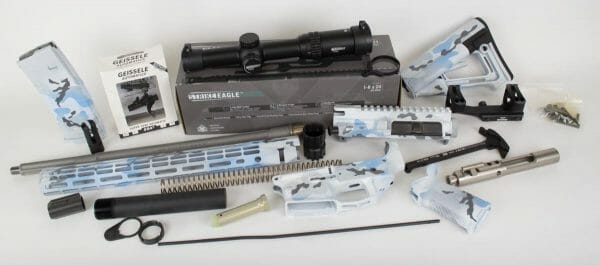 Tom Mchale gives the reader a detailed look at how to build your own AR-15 rifle, featuring an Aero Precision AR builder kit and a downloadable list of tools and parts.
USA –-(Ammoland.com)- Hey, here's an idea. Let's build a super spiffy AR-15 rifle! Better yet, let's build an AR rifle and then give it away to one of AmmoLand daily digest email readers!
Thanks to Ammoland, Aero Precision, and Brownells, the super cool Aero Precision Arctic Camo AR-15 Rifle we're going to build before your very eyes can be yours. Stay tuned for more info on how to win it.
So what's this rifle all about? We started with the Aero Precision M4E1 Enhanced Arctic Camo Builder Set. [Note this arctic camo pattern is only available for a short few months, but the build instruction below would work with any of the Builder Sets Aero offers through out the year.]
These kits are hand finished by Blown Deadline, and they look, well, epic. The standard kit only includes the lower receiver, upper receiver, and handguard, …Read the Rest
Source:: AmmoLand