BUCK Knives Bantam Knife Line Review and Camping Test.. (is that a thing?)
Go to article
By Tom Claycomb
Knife addict Tom Claycomb goes camping with the BUCK Knives Bantam Knife Line.
Idaho – -(

The BUCK Knives Bantam BBW Knife is an economical, nice looking functional folder.
To end on a positive note though, if you like a pocket clip, the Bantam BLW has one. I also love the mid-lock back location. I'd have to go look for sure but I believe 99% of my folders have the lock on the tail end of the knife. It is more fluid to unlock the Bantam's. Just slide your hand back and with a gentle push on the lock it deactivates. I like that.
As normal, we will end by listing the specs. The below specs only apply to the Bantam BBW.
BUCK Knives Bantam BBW Knife SPECS:
Blade Shape: Drop Point
Blade Length: 2 3/4″ (7 Cm)
Weight: 1.5 Oz. (42.7 G)
Handle: Injection-Molded
Carry System: Pocket
Origin: Made In The USA
---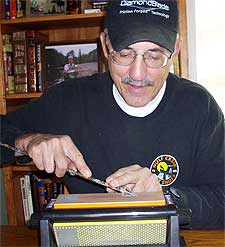 About Tom Claycomb
Tom Claycomb has been an avid hunter/fisherman throughout his life as well as an outdoors writer with outdoor columns in the magazine Hunt Alaska, Bass Pro Shops, Bowhunter.net and freelances for numerous magazines and newspapers. "To properly skin your animal you will need a sharp …Read the Rest
Source:: AmmoLand