Go to article
By Mike Searson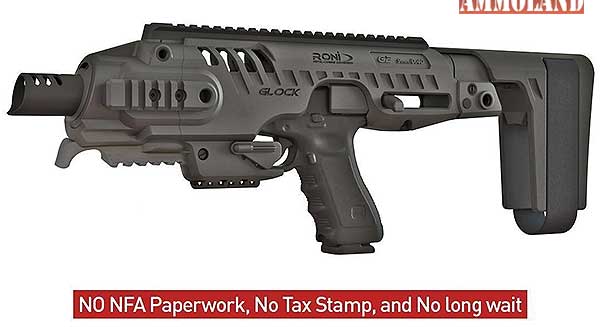 by Mike Searson
Gun writer Mike Searson reviews the RONI Stabilizer STAB.
United States -(AmmoLand.com)- CAA rolled out a few new RONI models this year. No we are not talking about an Italian pasta dish or San Francisco rice treat; the RONI is a chassis that allows you to transform your pistol into a carbine or a quasi-carbine in this case.
By quasi-carbine, we are referring to the integrated use of the SIG brace. If you have been living under a rock for the past few years, the SIG brace was originally designed for disabled veterans and others with a disability that prevented them from securely holding a rifle. The brace goes against the inside of the forearm and is secured via Velcro straps to allow one handed shooting.
The SIG braces have proven to be popular on AR and AK pistols, but they are starting to pop up on a variety of other arms such as the Uzi pistol, CZ Scorpion and various HK MP5 clone builds.